The Whizdom: Help When You Need to Go!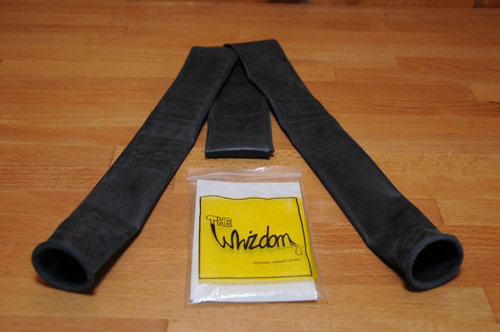 Perfect for Fishing, Golfing, Tailgating, Sporting Events, Concerts….Perfect for Policemen, Fireman, Postal Carriers….Perfect for Leaks, Drips, Dribbles and more….Whizdom is "Just for Fun"….or is it? We've all needed to take a Pee at just the wrong time and the bathroom or porta potty is crowded or nowhere near. The bathroom visit at any event is often an unpleasant experience. The lines are long, the smells are always bad, and if you really need to go just stand in a porta potty line….then you'll really, really need to go. "Just for Fun" along with our more serious products we are getting a chuckle out of offering  the Whizdom, a portable urinary device that will solve most pee emergencies you encounter away from home.Created by inventor Adam Natusch this device was made for people who just want to enjoy their golfing or tailgating experience while not having to take a hike when they have to go or find a private spot in the poison ivy.No more Standing in endless lines….No more Waiting for the 19th hole….No more Holding it until your teeth itch….No more Hiding in the bushes….No more Indecent exposure charges….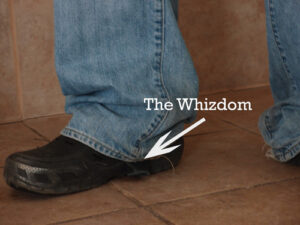 Whizdom and a patch of grass and you are good to go!
The Whizdom is only $9.99 for two. Have a little fun with this unique product today and make your Pee emergencies go away for good!
Caution – This product contains natural rubber latex which may cause allergic reactions.
Words of Whizdom from Adam
Where does the urine go?
The urine goes directly on to the ground at the base of your shoe.
Is the Whizdom difficult to put on?
The first time you try to put it on it can be a little tricky, but once you figure it out it is very quick and easy. You have to understand that the diameter is only one inch, and that you are not dealing with an erect penis. Also the Whizdom is not pre-rolled like a condom, therefore, you must first roll it down, then roll it onto your penis.
Where can I wear the Whizdom?
You can wear the Whizdom anywhere outdoors where it is acceptable to urinate onto the ground.  If you are discreet about it, alot more places than that.

Are there any Whizdoms that are not made of latex?
Not yet, we know some guys will not be able to use it because of allergic reactions, and for that we apologize. We will be looking into synthetic materials as soon as we can.
Is the Whizdom reusable?
The Whizdom is a disposable device, originally designed for one time use. However, it is possible to clean it and re-use it.
Is the Whizdom recyclable?
No it is not recyclable.  It is made out of natural rubber latex, therefore it is Biodegradable. Some people are allergic to latex.
Will I get in trouble for using the Whizdom?
You are responsible for knowing what the laws are where you are using it.  We recommend that if you are unsure about the laws, be discreet and respectful of others around you, and nobody will know.
How long can I wear the Whizdom?
You can wear the Whizdom for as long as it is comfortable for you.  But we don't recommend that you wear it for more than 6 hours.
Can people see the bottom of the Whizdom while I am wearing it?
The Whizdom is a black latex tube.  Very discreet while next to your shoe, unless you are wearing white shoes of course, but who does that?  I personally use a thumbtack to secure it to the heel of my shoe, and normally wear pants that hang very close to the ground so nobody can see it.  I just lift my pant leg up an inch while I am using it.  Some like to use it, then roll it into their sock, so it is only slightly visible when in use.
Is the Whizdom one size fits all?
No, it is one size fits most.  Everyone that we have tested it on has had no problems with the diameter of the tube as far as penis size goes.  We haven't had any issues with somebody's penis being too small yet, but I'm sure there are guys out there with huge penises that it won't be able to fit on.  Here at the Whizdom, we say they can wait in line for the next available porta potty.  The Whizdom is only 40 inches long so guys 6'5″ and over will not be able to use it.
 Product reviews